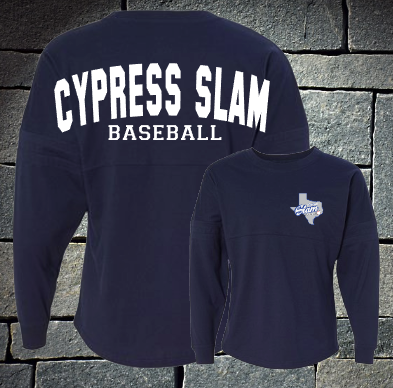 Slam Baseball Spirit Jersey - navy
Oversized Spirit Jersey with large letters across the back and Texas Slam logo on the front.
Roomy enough for comfort with unmeasurable style, The Pom Pom Jersey has spirited fashion that reigns in popularity. With an oversized trendy fit, there's more than one way to wear this long-sleeve tee. Made of 5.5 oz., 100 percent cotton jersey, the unisex fit pullover is perfect. The Pom Pom Jersey's impressive look makes it a very enticing choice for comfort and style. Play up the shirt's fashion with a cool casual vibe, or go for the comfy, laidback look. A perfect choice for representing team and school spirit, business branding, or bringing together a group to support a cause, this long-sleeve heavyweight crew neck tee offers versatile wear that complements all sizes—men, women, and kids. When it comes to casual fashion, the Boxercraft Pom Pom Jersey is a bestseller that offers endless comfort and style.
---
---
More from this collection